Santastic Slots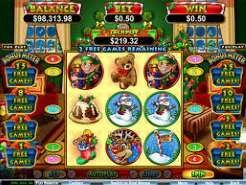 Play Now
It's the most wonderful time of the year, and you can make it even more wonderful when you play this beautiful Christmas themed 3 reels 5 lines video slots game from Real Time Gaming. You'll love watching that jolly old fellow, Santa Claus anytime of the year loading up all that casino cash onto his sleigh for you to win in his slots machine. This video slots game has gorgeous illustrations that create the ultimate atmosphere for Santa' Village and the world he lives in, and of course all the presents. The background of the game is illustrated against a clear night with stars twinkling in the sky. There are little red houses and milky white snow that looks like whip cream all around. You'll also see trees covered in snow and mountains in the background. At the top you will see the balance amount, bet amount and the win amount. Below that you will see the jackpot counter and that total just keeps going up all the time like Santa and his Reindeer. The symbols on the reels are everything you can imagine about Christmas time and they are all illustrated with bold vivid colors and include: Snowman, Santa ledging with Deer, Candy Cane, Teddy Bear, Christmas Pudding, Presents, Jackpot, Double and the Triple Logos. There are two wilds in this game and they are the Double and Triple Logos. On the right side and the left side of the reels you will see the bonus meters. On the left side you can see the 25 free games, jackpot spin and 10 free games. On the right you will see the 2,500 X bet, jackpots spins and 3 free games. Below the reels you will see all the buttons to operate the game starting with the bet amount selector, autoplay, lines and the spin button. You will also see the player balance, cashier, menu and the help button. This game can be downloaded onto your computer and saved on your desktop for easy access, or you can play this game right in your browser with the instant play option. This game looks and plays great on any mobile device. Take Christmas with you and get into the spirit anytime of the year when you play on your iPhone, iPad, Tablet, Samsung smartphone, Microsoft, Android or even a Blackberry. You can even sign up for an account, make a deposit and collect your welcome bonus. Want to talk to Santa's elves? No problem, the customer service can help you at anytime. There are lots of coin sizes to choose from so you can plan your strategy to get all those winning combinations. There are 2 coins sizes like $0.10 and $0.25 and you can bet either $0.50 or $1.25. You will also see there is a flash sledge feature that will transfer you to the Fantastic Features in a few seconds. This game truly is festive with all the animations on the reels, special effects, music, sounds and graphics that are eye popping. You'll find lots of presents in this game that open up and can provide lots of winning combinations.
Santastic Slots Jackpots
Having Santa Claus come to your house once a year with lots of presents is like winning the jackpot. Well, on this game, old Saint Nick has some cash left over in his North Pole village that you and win. Start your jackpot journey with Santa with the the third jackpot that is 180 coins or $45 for 1 Elf with 1 Double Logo and 1 Triple Logo. Or head to Santa's Castle and with the second jackpot that is 300 coins or $75 for 1 Deer with 1 Double Logo and 1 Triple Logo. If you want to feel like it's Christmas anytime of the year, then go for the highest jackpot is 600 coins or $150 for 1 Santa with 1 Double Logo and 1 Triple Logo. It keeps getting better with the two wild symbols that can keep bringing you more winning combinations. The Double and Triple Logos will also multiply your combo by 2 or 3 times accordingly so they can add up quickly. Now get ready for the Santastic Slot Bonus Game. Once you trigger the Festive Feast Feature you can grab a 2,500x Multiplier, 3 Free Games, Jackpot Spin, 25 Free Spins, No Bonus or 10 Free Games. The Santastic Feature Meter will show the awards you can get this Christmas. Just when you think this game can't get any better, there is still the random progressive jackpot to be won. All you need to do is collect 3 Jackpot Logos and make a bank. You will know when that hits with all the sounds, lights and animations that go wild in this game. Just like an instant Christmas party in your house. Overall, this game is lots of fun to play and brilliant to look at. You will enjoy all the features, bonus meters and the jackpots. Now get ready to hop on your sleigh and head on up to Santa's village in the North Pole, it's time to win some jackpots and feel like Christmas has come everyday of the year. Play Now!