Double Ya Luck Slots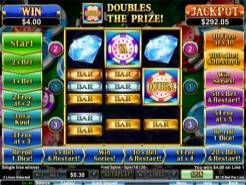 Play Now
For those who like to gamble and take chances, this game is perfect for them. Take that shot, take that gamble and have some fun doing it. You never know what will happen when you play this 3 reels, 3 paylines video slots game from the legendary Real Time Gaming casino software provider. Time for you to have an adventure and take some risks and you just might win lots of cash on your journey. Go ahead and start your gambling adventure when you arrive to this brilliantly designed game. At the top you will see the win amount, then the logo in the middle with gold type. On the right you will see the jackpot total and it keeps going up until someone wins it. The symbols on the reels are glittering with jewels and gold and consist of everything that will bring you luck like: Double, Ya, Luck, Seven, Bell, Horseshoe, Dollar, Three Bars, Two Bars, One Bar, Cherries, and a Diamond. The Double icon is the wild symbol and the three scatters are two casino chips and the dice. On the left of the reels you will see the start button, 2x bet, 3x bet, 2 free at 2x bet, 3 of a kind, 3 free at x 3, Re-roll 1 dice. And along the bottom you will see the 5 x bet and restarter, win series, 10 x bet restarter, and 4 free at x 4. On the top right you will see the 10 Free at x 10, 100 x bet & Restarter, Win series, 50 x bet & restarter, 5 free at 5 x, Re roll 1 dice and the 20x bet restarter. On the very bottom of the game are all the controls to operate it and start winning those winning combinations and jackpot. There is the bet amount selector, auto play, lines selector and the spin button. Along the very bottom is the player's balance window, cashier button, menu, help button and the back button. You can download this game onto your desktop, or if you prefer, you can select the instant play and play right in your browser. Heading on vacation this summer and want to play when you traveling or hanging out by the pool? No problem, you can play this game on any mobile device. It looks and plays well on iPhones, iPads, Tablets, Samsung smartphones, Android, Microsoft and even Blackberries. You can set up an account, make a deposit and collect your bonus all on your mobile device. There are a good selection of coin sizes between $0.01, $0.02, $0.05, $0.10, $0.25, $0.50 and $1.00. So, make sure you cover all 3 lines and place the max bet of $0.75 in order to increase your chances to win the highest prizes. You will see that this game has loads of features, so it's best to make sure you understand how the game is played and then take advantage of them all to collect up all those credits you can get from the winning combinations. This game is all about gambling, and you will have lots of different way to do just that and having fun with all the features available. You will also enjoy all the animations, special effects, sounds, music and bonus features that will keep you entertained for hours. And they all look and work great on your mobile device no matter where you are.
Double Ya Luck Slots Jackpots
You will really want to double your luck when you see these jackpots just waiting for you to gamble and possibly win it all. Go for the the third highest jackpot that is 100 coins that is $25 for 2 Horseshoes and one Double. Or double your luck and go for the second jackpot makes 200 coins or $50 for 2 Bells with one Double. But if you want to gamble and win big, then go for the top jackpot that is actually 1,000 coins or $250 for 3 Double symbols. Keep your eyes on that wild symbol as it can bring you lots of gambling luck and winning combinations. This red casino can substitute for all the others but the Seven symbol and the scatters. In case you use it to complete the winning combination, your gain will be automatically doubled. The Double Ya Luck! Online Slots Scatter Symbol is one you will really like. And with a little luck you can win lots especially with three reels. Having 3 reels in to watch, this slot also deals with three scatters, which are Dice, Ya and Luck symbols. All these icons are very important to achieve some Bonus Features. Watch out to see the Ya on the second reel, while the Luck appears only on the third one. These bright symbols multiply your chances of winning lots. Now you're ready for the Double Ya Luck! Slot Bonus Game. Activate the Gamble Feature and you will be given lots of chance to make some big winnings! Catch Double, Ya, Luck symbols anywhere on reels 1, 2 and 3 accordingly and win up to 40 Free Games with 4x Multiplier. To start, you are awarded with 5 Free Spins with 1x Multiplier. To make your bonus more beneficial, choose the right card color between red and black and enjoy your rewards. Keep in mind, that if you make a correct choice, either the number of Free Spins or the prize multiplier will be doubled randomly. You are welcome to try your luck until you pick the wrong card or award 5 picks. Also, each time you are retriggering this feature you get 5 extra Free Spins. Then there is the second screen bonus round that will give you even more chances to win. All you need to do is get 1, 2 or 3 scattered Dice appearing left to right to activate the Board Game Feature. You are then moved to the 'Start' post of the Boardgame and each time you hit the Dice, it rolls and shows you a number. The general number of caught Dices makes you draw around the Board Game. When you are playing the Board Game second screen bonus round, as soon as the Player's Token stops, you can see what prize it brings to you landing on one of the bonus symbols. Hope for the best and get such prizes as instant winnings, and some free games, a random 3 of a Kind on the first line, a win series that awards multiple random 3 of a Kind. And don't forget the chances of winning the progressive jackpot which can reach some big totals. Play Now!