Jumping Beans Slots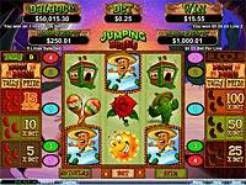 Current Jackpot
$6,974.51
Play Now
Holy jumping beans this 3 reels 5 paylines video slots game has tons of energy and more than one way to win. The slots machine's theme is based on a family run restaurant in Mexico and everyone looking for the beans that bring them so much magic. Well, the jumping beans have come to life and they are Mexican...so Cha Cha Cha! Come on down to this sleepy little Mexican town and watch all the fun in the hot sun. Real Time Gaming is the software provider who built this game so get ready for some tasty slots that will having you thinking Mexican tonight. The background of the game is a farm in Mexico with blue sky, clouds, cactus and desert. At the top of the game you will see the balance amount, bet, win, the minor jackpot, jumping beans logo and then the major jackpot. On the left you will see the tally for the bonus beans and on the right you will see the tally for the bonus beans. This game is just bursting with the colors you would see in Mexican culture and the characters are very cartoon like and come with high details. The symbols on the reels include: Mr. Bean with Mrs. Bean, Bandido Bean and Cactus, Rose, Guitar, Mexican Tent, Sun, 3, 2 or 1 Tacos, and some Cuban Rattles. Mr Bean is the wild symbol and Mrs. Bean is the scatter symbol. On the bottom you will see the player's balance, autoplay, bet selector and the spin button. This game can be downloaded onto your computer, or if you prefer, you can select the instant play option and that will get you playing right in your browser. Or if you're off to the airport for a vacation in Mexico, no problemo, you can play this game on any mobile device and you still get all those jackpots, features, bonuses, graphics, special effects and music all your device. You can play on iPhones, iPads, Samsung, Microsoft tablets, Android and even Blackberries. Get the welcome bonuses while they're hot. Sign up for an account, make your first deposit and jump on over to this slots machine and you'll be ready settle into Mexican easy going lifestyle. There are lots of coin sizes to choose from to hop things into gear. Visit the amusing slot and dance with jumping beans as you pick the most spicy coin value from $0.05, $0.10, $0.25, $0.50, and $1.00. If you like hot dishes, why not sauce them with the highest bet of $25 then. Since you can play on your mobile device, play in Mexico where you can try their 3 special top dishes? Look at the menu and order the biggest reward that is to your liking. One Price for all Prize Meals and that will tantalize your taste buds and put some cash in your bank account. This game has some great animations that go with the Mexican music and it's all quite amusing to watch and play. There's lots going on and between the colors, designs, funny characters and game features, you'll be quite entertained.
Jumping Beans Slots Jackpots
Things are starting to get busy in this Mexican restaurant and the family is jumping around getting the jackpots ready for you. Make your first order with the third jackpot that is 60 coins or $300 for 2 Suns and for 1 Mr Bean. Now that you've had the first appetizer, go for the second jackpot that is 100 coins or $500 for 3 Bandido Beans or for 2 Mexican Tents and for 1 Mr Bean. But if you want life to get really sweet, then go for dessert, which is the highest jackpot is 200 coins or $1,000 for 2 Bandido Beans and for 1 Mr Bean. Keep your eyes on the Mr Bean and Mrs. Bean symbols, they are the prize getters and will bring you basket full of credits as the wild replaces other symbols. As we all know, that behind every great man there's a great scatter woman. Mr Bean listens to some bits of the scatter advice, although the wild remains stronger and when it appears in a winning combo, it doubles your gains. Mrs. Bean can bring you lots of winning combination as well, For example, when she is in motion she scatters and both gather together they can push the award button. The scatters always follow its wild husbands on the reels. Mrs Bean can not live without her wild, or it happens due to auto nudge feature that helps you to create more wins. That Auto Nudge feature is really unique as more and more video slots have them, proving that players like to use it to make those winning combinations. Now you're ready to jump on over to the Jumping Beans Slot Bonus Game where you get 10 hot Free Spins if 3 Mrs. Beans show up on the reel party. What's really hot is that after any auto nudge the scatter and wild with Bandido Bean will accumulate on the Bonus Beans Tally and reward a bonus reward at the end. This game consists of 6 levels with 3 Beans per line. Add 5 Free Games to the current feature as it is available only once. After all that, there are still the progressive jackpots to be won. And with two chances to win them, you just have to keep jumping back and collect all those up, then load up your wheelbarrow and head to your house. It's going to be a great night in this Mexican family restaurant on the farm. Play Now!