Diamond Dozen Slots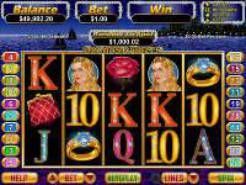 Current Jackpot
$3,333.24
Play Now
This game is classy if not a little cheesy. It's an older looking title that adores and everything with the glittering gold diamonds. It has a Las Vegas style to it that is reminiscent of some of the early virtual casinos that you would find in Vegas. For those of us still under lockdown and missing the days of Vegas before the pandemic, this one will bring a little bit of nostalgia into your life, and may make your quarantine a little easier!
Classic Vegas Look
The things you can manage here range wildly. There is a lovely Purse, a Ten, Nine, Jack, Ace, the White Diamond, Rose, a Man, King, Queen, lovely Lady, Blue Diamond, and glowing Ring. Everything is adorned with jewels and plated with gold. We wouldn't be surprised if the teeth of the leading characters is also gold plated! It's a game that is well done enough that would make you not surprised that they went that far with their attention to detail.
Across the top of the game is a lovely user interface, hidden within which is a progressive jackpot. The coin sizes there or go up to five dollars for one coin, giving you one cent and lower increments if you find that to be too rich for your taste. The most you can bet at once is $100 for a single spin. This is across the 20 lines that you could bet on. The bonus round here is called diamond delight. It is, and if you match the right white diamonds, you will be given multipliers and a chance to get bigger winnings! This is a nice incentive to keep playing while you chase the progressive jackpot looming overhead.
Pays Well
In addition to the rest of that, there are the normal slot machine winnings that you would expect, which happen at a pace that seems to exceed rival Slots. The bonus round and progressive jackpot are nice, but even casual winning at this game seems to be fairly easy. Don't take our word for it, give it a try!
This all comes together to make a game that doesn't look like it would be all that much fun, but in practice, is more fun than it has any right to be. The winnings are great, the graphics are good, and the package is sound.