Coyote Cash Slots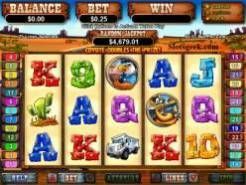 Current Jackpot
$1,670.83
Play Now
This novel take on the cartoon chase trope is a great way to learn a little bit about history while also winning lots of money. It is a high stakes machine that gives you plenty of free spins, has amazing jackpots, and wonderful artwork. It is something that people that are fans of Looney Tunes will surely appreciate. We are surprised they did not make this one into a series, as it has all of the makings for that!
Great Features
Our favorite feature here is the varied amounts of the coin sizes. Whether you want to bet a single penny or go up to five dollars a coin, it's entirely up to you. If you put that down across the 25 lines you can bet on, you can bet at most $125. This will be easy to spread out due to how often the free spins bonus feature will pop up. If you match enough symbols, you'll get some free plays!
You will also have to deal with the fact that the progressive jackpot is looming over everything. It's something to keep you going for long stretches, and always manages to get ever higher. We have yet to win it, but always feel like we're pretty close!
Another thing this game has going for it are the lovely graphics that adorn the reels. They are hand drawn, and they clearly spared no expense. A highly skilled illustrator came in here and did a wonderful job. It almost looks like they took this from an animated cartoon series. We don't say that too often, it being high praise coming from us!
Big Bonuses
Another thing to keep in mind about this game is that you will be getting bonus rounds frequently. This isn't true of many games, but due to the number of symbols that you can match, it tends to come up more often than not. We were surprised by how many free spins we actually won by the end of it. Be sure to play it soon before they correct this!
If you are looking for a game that has a cult following, big winnings, and lets highrollers have a good time, you have found it. It's a game that will stick in your memory, as well as your heart. With the amount of money you'll be winning, you won't soon forget this lovely game!