Aztec's Millions Slots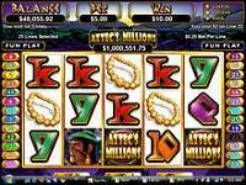 Current Jackpot
$1,425,263.51
Play Now
We're not sure why there are so many games named after a culture that ate each other's hearts, but here we are! This one has a lot to offer new players due to its nice graphics and ample free spins that let you keep going for a while without having to stop. It also has the usual genre mainstays you will become accustomed to, like progressive jackpots and bonus features. It's a stand out game, and although not the best Aztec themed game overall, certainly in the top running for it!
What's on Display
You can match so many things here that you'll wonder how they managed to fit them all in. These symbols on the reels include a Queen, the Aztec's Millions Logo, Treasure, Leopard, Idol, the Aztec King, his Necklace, King, Ace, a lovely Woman, Jack, Nine, and the Ten. The cards here are stylized to match the rest of it, and it's funny to think about because the Aztecs weren't alive back then and wouldn't appreciate what's going on today in their name. The jackpots here abound all over the place and happen at a good pace. We almost won the progressive jackpot, only being a symbol off! We got close to many other things as well. This game keeps you on your toes and you're always just about to win something, or winning. There's rarely a moment where you're not even coming close. We think they broke it or something because it pays out pretty well too, above what you would expect. It's easy to think that they won't notice, but we'll mention it here so you can get in on it before they manage to fix it or something.
Game Style
The game lets you play across 25 lines and across 5 reels. The reels themselves aren't all that out of the ordinary for the genre, and spin like all the rest. The bonus feature is the free spins feature, which will have you playing without putting more money down. This makes it a newcomer friendly game that you can play with anyone, though if you were young you probably shouldn't be gambling online to begin with. If you're looking for an easy entry into online gambling and don't want to worry about picking a stinker, this game is a safe bet to start off with and will hold your interest for a long time. It's a keeper!