Builder Beaver Slots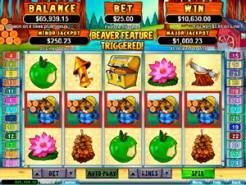 Current Jackpot
$1,596.51
Play Now
Those cute and colorful creatures are here again, but this time instead of building a dam to hold up a river, they are building you a better life and future for your gambling joy! This is a very popular game on the site for a reason. From progressive Jackpots the bonus features, this game has it all. It even allows you to bet a lot higher than you would expect from a cartoon looking game. If there is a problem we have with this game, we have yet to figure it out. That is high praise coming from us, and we think you should try it immediately!
Match Cute Animals
You can manage a larger variety of symbols here than you are used to, lacking any sort of playing cards or filler. These include a Sign, Tools, the Racoon, Pinecone, Female Beaver, Beaver Snacks, House, Bear, Apple, Flower, and the titular Beaver. Everything has been expertly drawn and illustrated to look lovely. It has a nice sense of enthusiasm, and a good attention to detail. We think that they could easily have made a sequel to this game if I got popular enough, and given how many people play it, they just might! One thing that we like about this game the most is how high it lets us bet. Although the coin sizes can be whatever you would like, you can bet at most up to $100 on a single spin. Across the 25 lines, this adds up quickly. We also enjoy the Beaver feature, and the sign feature. These are scatters, multipliers, and free spins to the game. No one ever complains about free spins, and we are not going to start!
Goes By Fast
Another thing we absolutely love about this game is how quickly it plays. Some thing about the graphics and the speed of the game makes you go along at a higher price than normal. It could just be because of how fun at all is. It could also be something else. Maybe we even just lost track of time! Whatever the reason, this game went through the hours quickly. If you've never tried this game, you should change that. It has everything you would love from slot machine games. It even has some things that you don't see in combination together, like progressive Jackpots and good bonus features. Give it a try!