Dream Run Slots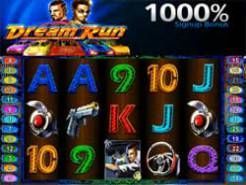 Current Jackpot
$6,777.72
Play Now
This game is the fast and furious with neon lights. For racing fans, you will adore it. For a street racing fan specifically, you will especially adore it. If you like cars, there is also a lot to like. For people that are into girls, they also have some lovely ladies here. Everything here is probably more tailored to men, but we think that there are more than a few girls out there that would probably like it too. Although it is light on bonuses, it has big old features, it has no shortage of style!
Great Graphics
For starters, the graphics here are the main draw. You can bet on things related to street racing, such as a nitro kit, a racer, suits of playing cards, a lovely import model, different cars themselves, a greenlight to start the race, and your rival driver upon it. It looks like something out of a cartoon version of a car film, or possibly an anime with the style cranked up by a few notches. There aren't that many things about sports racing anymore, making this a stand out one in slot machines.
There aren't many progressive jackpots or anything like that here, but there are a number of bonus features that make it memorable. The dream run racing feature is the main bonus feature, alongside the nitro racing feature. Both of them add up to give you more winnings and multipliers and jackpots. Free spins will pop out too. We're not complaining, that's just what all of these bonus features amount to. They correspond to matching various things, such as the nitro symbol, or the leading racer.
Bonus Features Lacking
On that note, our only criticism of it is that although we love the bonus features, they don't have any progressive jackpots here. Those would've been the real stand out features for us. We like those like no other, and think that most people would agree that they are everyone's favorite part about online gambling. Should they have had those, we will probably rate this game higher.
For import racing fans, this game is a must. Forever what else, if you are into the retro art style that is somewhat of an ideal version of the 80s, you will love playing this game, seeing the images race along the reels, and spending time with cars.