5 Wishes Slots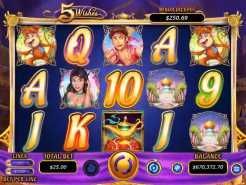 Current Jackpot
$5,933.92
Play Now
If genies are your thing and you're a fan of Aladdin, they made a slot game for you. This one has progressive Jackpots, wilds, and a decent maximum bet that for us falls short. Although it is rough around the edges, we think the heart that it contains an illustration style more than makes up for it shortcomings.
Nothing New
You've probably seen many games like this from the provider, at least as far as the gameplay goes. The coin sizes differ in pennies, there are five reels to bet on, and 25 lines for you to play on as well. On top of that, $25 is the most you can put down at once. When you add in a jackpot or two, it makes it more enticing, but also rudimentary. The drive in this game is clearly not it's gameplay. We will give special mention to the magic wilds feature and the free games feature, however.
You could match a wide variety of things that are quite attractive too. Aside from suits of playing cards, you will have jugs, palaces, Aladdin, genies, and princesses. This is alongside his monkey companion. They basically ripped it from the Disney movie. I am pretty sure they didn't have anything like that in the original story that was made out of words alone.
Looks Great
Another thing we like about this game is how much time they put into the look of all the different character designs. They all have a unique identity to them. None of them feels generic. You could tell the source of inspiration was probably from other depictions of this tale, but that does not detract from it. If anything, it makes you feel good to be seeing one of the better renditions of the classic fairytale.
Of all the things we don't like about this game, it would probably be the low maximum betting amount. They usually let you bet higher in other games of this kind. This can make it a little more interesting if you are in a hurry. They don't allow you to do that here, however. Instead, you are highly limited. That's not bad if you have a habit of overspending. We enjoy the freedom of being able to bet what we would like, however. We have to play longer, and we don't always have time. That might be completely unique to us, however!