Achilles Deluxe Slots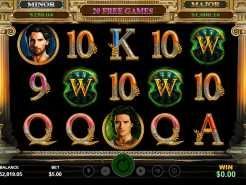 Current Jackpot
$1,825.41
Play Now
Games that go back in time and try to capture of the Greek and Roman period are a dime a dozen. What are less common, however, are games that stand above that crowd. Achilles is one that both looks great, has impressive betting amounts, a wide variety of coin sizes, and even a progressive Jackpot. It is hard to compete for this one in the genre! If you found all the other ones lacking in some way, this one will probably win you over to that era of history.
What's on Display
Assuming you can appreciate the time period, you will recognize many of the things you can match. They have Achilles, Helen of troy, Troy itself, a shield, and suits of playing cards. There admittedly are not that many things concerning Achilles, but at the same time, aside from the man himself, there really isn't that much to the story or him. They could have put his heel and there getting sliced, but that would be dreadful! The coin sizes start at just a single penny, and go up to five dollars each. You can bet across five reels and 20 lines. It has a maximum betting amount of $100 USD. This is alongside a bonus feature, called the wild free games feature. In it, you will course win free games. Although this is not the most innovative bonus feature, it does provide a lot of bang for your buck. If we were to have to choose between a multiplier feature or a free games feature, we will probably take the free games because it saves us money and extends our play time.
Nice Jackpot
In addition to all of that, they have a very nice progressive Jackpot. The longer you play, the higher it gets, and the longer everyone plays, the higher it gets for everyone. Take it together, it can get sky high. This will potentially make up for all the money that you put down and lost leading up to that. The people that win the game are also probably featured on the website itself. We have yet to win this one, but are hopeful! Although this game is not very memorable once you leave it, it is probably the best one to champion to this particular subject matter. If you like the Greek period, and options are limited otherwise, it should make it into your rotation!