Crystal Waters Slots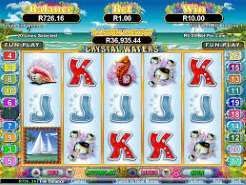 Current Jackpot
$1,569.06
Play Now
If you want to spend a lazy day on the water gambling, this is a great way to do so. Although lazy would also describe some other aspects of the graphics, this game is fun for fish lovers, fans of vibrant imagery, and anyone that isn't put off buying fairly rudimentary graphics. It makes up for its low production art by having a high progressive jackpot that seems to go up all the time. Even as we are writing this, it is creeping up ever hire. If you want a well balanced game with a little room to grow but still being an enjoyable experience overall, this one fits the bill, and as far more relaxing than others of its kind.
Match Fishes and Treats
You can match things from the bottom of the ocean, and some you may have seen wash up on shore. These include tropical fishes, dolphins, a designated bonus fish for the free spins bonus feature, various suits of playing cards, a yacht, a cockleshell, and a turtle. The shell is probably our favorite graphics, although the bonus fish has a soft spot in our heart for what it represents and gives us. Across the five reels on the 20 lines, this sea theme game allows you to bet in coin sizes and one cent increments, going up to five dollars for a coin. This makes the maximum bet $100. Add to that the progressive jackpot along the top, and you will not be wanting for something to win. If anything, you'll become addicted to just how easy it is to win, and how much there is to do here!
What We'd Change
If we could add anything to the game, it will be replacing the suits of playing cards with other colorful creatures from the bottom of the ocean. This probably would have been relatively easy, as they could have simply re-colored some of the other existing shells and elements. A missed opportunity in our estimate. Still, everything looks nice, and you will not think that the graphics are all that bad once you get used to them. Lazy does describe some of the graphics, as well as the general feel of the game as you lazily spend your day gambling and winning money. If you want a day out in the tropical beach with nice creatures under the ocean to sea, this is as close as you'll get during the lockdown!