Megaquarium Slots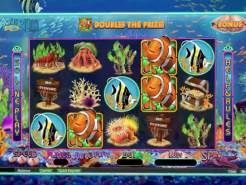 Current Jackpot
$1,097.44
Play Now
Have you discovered the Megaquarium yet? This slot is swimming with potential. In fact, the longer you play, the longer you'll want to stay. With dynamic graphics, pleasing images, and lots of potential to unlock, you never know how lucky a dive into the Megaquarium could be…
Reels and win lines formatting
Only a few five-reel slots boast 50 paylines, but this is one of them.
Coins to place your bets with
The smallest coin is worth just a cent, meaning you can wager 50 cents at least to bet on all the lines. You can go higher, but the biggest bet is no more than $12.50 across all those lines.
Megaquarium special symbols to look for
The clown fish is easy to see, and you'll want to spot him too, since he is used as a wild symbol on the second and fourth reels. He is stacked though, so has the potential to appear six times in a spin. All wild-won prizes are doubled from their usual values. You might expect an exception to the wild replacement rule, but there is none present. There is no scatter, which would be the usual exception here.
Are there bonuses to be unlocked?
Can you spin the reels and stop them when a FREE SPINS icon appears on the first and fifth reels at the same time? If so, you'll win seven free games. Watch for some wins as you play through them, but you should hope to see a bonus icon on each of the first three reels on the seventh spin. Should this occur, another three free spins will be won. The final spin on each potential set of free spins has the power to offer additional features in subsequent spins. So, the longer you can remain in the game, the better the possible outcome could be for you.
Download and enjoy playing the Megaquarium slot today!
We all love games with free spins offered as a prize-winning possibility, but Megaquarium really does put a new spin on things! With the final spin of a set of them proving to be potentially more rewarding than the rest, you never know how far you could go. Swim around in search of prizes inside the finest megaquarium you have ever seen. Let's hope that clown fish proves lucky for you when you play.