Coat of Arms Slots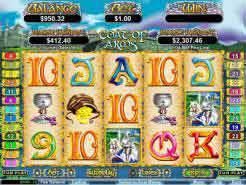 Current Jackpot
$5,506.95
Play Now
If there's a classier looking game that brings in the best elements of the King Arthur era and otherwise, we haven't seen it! Our favorite casino in Vegas was always Camelot, so this game has a strong place in our heart from going there as a kid and then growing up into an adult addicted to playing online versions of that in our spare time. You have big jackpots, progressive ones at that, and wonderful art alongside high bets. If there's something we don't like about this game, it hasn't occurred to us yet!
Re-Spins
One of our favorite things to do in this game is win the Re-Spin bonus round, which comes around more often than it would in other games. A key component of that is how well the feature manages to extend our play time without assaulting our wallet as so many others do. We think that out of all the other features this is our favorite, alongside the progressive jackpot. Another solid thing this game has going for it is the fact that the artwork is sublime. They nailed the time period and have a stained glass look to some of the elements that we haven't seen matched elsewhere. If we were to match it, it'd be a new crowned king to us, but we haven't seen it.
High Stakes
You can bet all over the board, going from as low as the usual penny to as high as five dollars a coin. This makes the max bet amount jump through the roof to be $125. This is leaps and bounds above what you'd find elsewhere in the genre, and a great way to make a quick win if you're short on time. Across the normal amount of 25 reels, it's a great feature. If there was one thing we would change about this game, it'd be that they should have had a little more of the fine artwork on display over the playing cards. With how well the art came out in this game, it's a shame there isn't more of it. Not that the cards aren't artful, but it's not the same. If you want a game that looks back to the sword in the stone days with nice illustrations, a stained glass look, and jackpots every which way, then you've fond a game you'll love with this one!