Count Spectacular Slots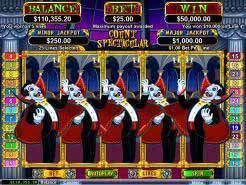 Current Jackpot
$4,844.30
Play Now
Vampire games are rare, and ones with a slightly cartoon look to them are even rare. This game stands out for that reason. If you are a fan of things that go bump in the night, the general Halloween vampire mythology, and pretty much every legend ever associated with it, this game brings them all together, treats them with respect, and pays you for your time!
Game Setup
Starting off, this game lets you bet in increments of one cent all the way up to five dollars for your biggest coin. Across the 25 lines, on the five reels, you can bet $125. Most of the time you won't be going that high, but it's nice to have wiggle room. The bonus rounds here outnumber most other games, having both a respin feature, and a count spectacular feature. If he comes up enough on the board, you match him, and win lots of money as you would expect. Most of the time on this game was spent on what you can match. There is a lovely werewolf, count spectacular himself, a carriage, a knocker for a door, a bundle of garlic, an unsuspecting girl, an oil lamp, a flapping bat, a mirror without a reflection, his castle, zombies, and the coffin. They combined all the zombie and werewolf mythology with vampires here, leaving little stone unturned for fans of the genre.
Big Jackpots
In addition to that, you will see the progressive jackpot towering over have the longer you claim. Every time you spin, or anyone else spins, the jackpot gets a little bit higher. When it gets to a certain point, one lucky player will be given the winnings. No matter how often we play, it never gets old to see it build up on the site. Winners of the game will have to be featured on the site, letting you know that other people are really here waiting money, and that you also have a fighting chance! This game walks a fine line between having a spooky subject matter but not actually being scary. We prefer it, being more friendly and inviting, not "Saturday morning cartoon level, but somewhere in between that and an average movie. If you love everything associated with vampires and werewolves and zombies, it's all here, and comes together as a very compelling way to spend the night!