Cleopatra's Gold Slots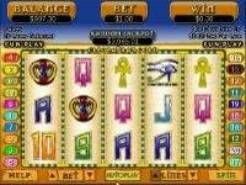 Current Jackpot
$2,556.30
Play Now
The woman whose beauty launched a war and many hopeful men seeking their fortunes has come to give you yours in slot machine form. It features the lovely lady herself, equally impressive graphics, and a look back at the culture long lost. Everyone will come for the money, but you will stay enthralled by her beauty, and how high the progressive jackpot can get!
Sky High Winnings
The stand out feature here is just how high that progressive jackpot really goes. Maybe it's because this game is popular, or maybe it's something else. We're not sure, but the progressive jackpot here is skyhigh. The coin sizes themselves go from a penny to five dollars each, which may be part of the reason why. You can go across 20 lines. The maximum bet that you could hope to put down is $100 in total. Beyond that, you will be given a free spins feature, and many hours of enjoyment! You could match many things from that ancient era. The eye of Horus, pyramids, the queen Cleopatra herself, scarab, a bass, and Ankh, and suits of playing cards will adore the playing field. They all have been expertly crafted and look lovely. They spared no expense when it came to the artwork! This is a game that you will spend a lot of time with, the winnings racking up quickly. We had a good run with our time spent reviewing it, and think that it pays out more than average compared to other games. They still claim that has the industry standard of 96% or so, but you can expect to win as long as you play long enough. How much you win is up to you!
Best Egypt Game
This game is probably one of the best in the ancient Egypt genre. It gives a historical look at Cleopatra, with an art style that gives it a new life. It is a stark contrast to the other games that have taken on Egypt. We have not single single one that matches it! We think you will agree, this one stands above the rest, just like Cleopatra herself and her beauty. If you want an easy-going game that is also easy on the eyes and has a lovely lady that made it anything but easy for her suitors, you will enjoy this game long into the night, and on into the morning!