Big Shot Slots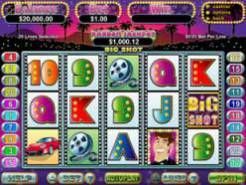 Current Jackpot
$2,556.30
Play Now
This game's the grand theft auto of slots, which is a high praise to give, but we stand by it. With impeccable style and lovely graphics and a Hollywood theme, it hits it out of the park in more ways than one. Everything from the jackpot to the UI has a nice attention to detail to it, making for a well rounded package that's hard to beat! You can bet up to $100, across the 5 reels on display. The most you can put down is $5 a coin, which makes for a nice top end betting amount for those willing to take the risk. The things you can match include the Ten card, a fancy Car, Nine, a Superstar, Awards, the Big Shot Logo, Movie Canister Tins, a Movie Clapper, a lovely Lady, Queen, Jack, King, and an Ace. Everything has a nice illustrated look to it, which is the main draw.
Looks Great
The style of the graphics is ripped from a famous video game itself, specifically Grandtheft auto as we mentioned. It has a larger than life look to it that makes it look all at once high budget and familiar. This is good, resembling things that had a lot of care put into them. It makes you feel valued, and like this is a game you can trust with your money. The only thing they didn't do a great job with where the bonus features. The free spins bonus feature comes up, but that's about it. You can win free spins and other games without the need for a bonus round. It seems like something they tacked on at the end just to ensure there was something going on with the bonus, but we would rather have something but nothing!
Great Wins
Our favorite feature is by far the progressive jackpot. There is something about it that is sublime in our book. It sits high across the reels and looks down upon your family. Should the fates be on your side, you'll win the biggest jackpot you have ever seen. And if you put down enough money, it will be a bigger! If you want a game that is very well done and has good features across the board, this game tracks at least one of those boxes. Would it lacks in features of more than makes up for in style!