Fantasy Mission Force Slots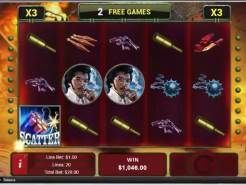 Current Jackpot
$8,445.33
Play Now
Fantasy Mission Force sounds like it has some drama to bring us. It might be a new title as a slot game, but it stems from a movie of the same name released a while back and starring Jackie Chan. If you are a fan you will certainly want to play this game, but fans of martial arts will find it interesting too. Will you?
Reels and win lines formatting
You'll find this part familiar. It offers five reels on which are arranged 20 lines to bet on.
Coins to place your bets with
A 20-cent minimum bet is possible with a cent on every line. If you want to bet more you can – there is a dollar maximum available on each line.
Fantasy Mission Force special symbols to look for
The bag of cash is used as a substitute, appearing on reels two, three, four, and five. It replaces everything else that might appear on the reels. Unusually, this does include the scatter as well. The scatter appears as some dynamite.
Are there bonuses to be unlocked?
Yes, but you must locate some dynamite on the first reel along with the cash bag on the fifth reel. If you can do this, seven free spins will be yours. All the prizes won during these spins are tripled from their usual values. You might also secure further multipliers with the help of any wilds or scatters that could appear. You will notice these free games might include icons appearing with fuses in the corners. Watch closely, because three of these will trigger a bonus feature called Kaboom. Is it as explosive as it sounds? Possibly, because you'll win more free games, and it could mean you win an unlimited number. How much could you win with unlimited free games returning real cash prizes as you play?
Download and enjoy playing the Fantasy Mission Force slot today!
Fans of Jackie Chan will certainly want to give this one a try. Mind you, any player who loves Asian-themed slots will probably want to check it out as well. With lots of great features and benefits involved, especially the chance to play the Kaboom feature, you can see why players are loving this game. Give it a shot today and see if you will become a fan of Jackie Chan and Fantasy Mission Force.