Dragon Orb Slots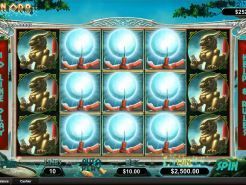 Current Jackpot
$3,078.48
Play Now
This is a game that put the focus on pretty and never let up! It's easily one of the best in the Asian genre, and can compete with feature film work even in the worst of its graphics. If you're a fan of all things from that side of the world and like big budget artwork, this game will sit high on your imaginary slot shelf.
Great Gameplay
The gameplay mechanics are so tried and true you won't see anything out of place there that you wouldn't find in almost any other slot. They have many nice things to match as well, including the Dragon orb, Scrolls, temple looking things, lotus flowers, idols, vases, and candles. It also has a pretty decent wild re-spin feature for the bonus round, which will keep things from being too samey during long play sessions. Coin sizes here are all over the place, so we'd recommend sticking to ten cent increments, or just ten cents for your coin. You can easily play that on 10 lines across the 5 reels and be having a good time for an hour or more as you let the money roll in. There is a progressive jackpot across the top of the game as well! There isn't anything they left out of this one. You can see it mounting as you play and it builds up a nice tension for all the winnings you could potentially be enjoying if you get lucky with that one. We have yet to, but we see the names of many people that do all the time, so it happens to many if you play long enough.
Criticisms are Minor
If we had one misgiving about the game it would be that although the art is to die for, we wish there were more of it. Admittedly the art style is so high brow that it probably would have been too expensive to do that, but considering how many people are playing and supporting this game, we think they could have made it work. This game sits high up as the king among many in the Asian themed slot machine genre. It's unforgettable, and has all the normal features you would expect from the genre. Although it's a little bit rudimentary compared to similar games, the graphics and appreciation given to the progressive jackpot make up for it. We recommend it!