Aladdin's Wishes Slots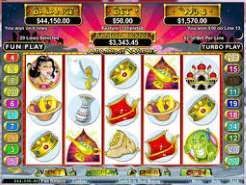 Current Jackpot
$3,330.71
Play Now
Disney doesn't have the copyright on the original tail, so it was about time someone else stepped up and made something great out of it! This team pulled out all the stops when it comes to that, making a game that both looks great and plays uniquely. You can bet as much as you'd like and match things that looked ripped from an expensive property. If you want a game that has it all, this one's pretty close!
Looks Amazing
The main draw is the graphics, which look great. As you would expect, you can match the usual Monkey, a Crown, Princesses, Fruits, a Jug, Aladdin himself, Magic Lamp, Palace, Yataghan, Sack with Coins, the required Magic Carpet, and the Genie himself. It's hand drawn and looks to die for, though hopefully you won't meet a grim fate like some that seek the genie! The bets are across the board for as low or high as you would want. You can go up to $100 for a spin, and .01 and $1 for a coin. The progressive jackpot is lacking here, made up for by all else. You can bet across 20 lines, which is lower than normal but streamlines the experience.
Feature Lacking
We wouldn't change the graphics for the world, but would change the features. A lacking progressive jackpot is a big absence here for a game themed after having your wish granted. If we had one wish to grant, it would be to reinsert that into the equation to keep things more interesting. The bonus feature is a wish feature that is fun, but nothing's as fun as getting rich! If you want a game that has nice animations, this one's great for that too. Everything feels alive and moves quick and looks like a lower budget Disney movie. We'd even rate this higher than some of the Disney art because of how nicely it all comes together with you getting rich from it. For a well rounded and hand drawn package, there's no beating this game. It has everything you could want from an animated feature, as well as anything you could want from a slot, sans a big jackpot looming overhead. You can make your own by betting large, however, which we recommend. For the best take on Aladdin we've ever seen, this game's the way to go!