Crazy Vegas Slots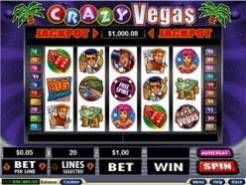 Current Jackpot
$3,333.24
Play Now
Gambling started with Vegas, and always comes back to it. There was just something about the strip that still makes everybody smile. If you want some thing that harkens back to the early days of gambling, but still has many of the modern benefits of new games, this one walks that fine line. Being a casino about a casino, there is a bit of redundancy here that many people will enjoy it. With jackpots, bonus features, and lovely graphics, it is a well rounded package for anyone that likes gambling!
Match in Vegas Flare
You can match things that have a Las Vegas theme to them, such as playing cards, a lovely lady, the big bonus symbol that will activate the big bonus game, a showman, a free spins chip which will grant you free spins if you get enough of them, a crazy Vegas logo, a roulette wheel, crabs, cash itself, and Elvis Presley. We're not sure how Elvis worked his way into this game, but he is a sight for sore eyes! Across the 20 lines, the most you can bet is $100. These are in coin sizes from $.01 to five dollars for one coin, have a one dollar increments and $.50 increments along side in between. If you were going for the long play, we recommend betting lower and playing for more, as this will give you a better chance at the progressive jackpot. If you want something that will pay out quickly, however, go up to $100 on one spin.
Five Reel Fun
Most games that look like Las Vegas are three reel games, making it refreshing to see a game that match the five reel format. While we prefer five reels as it offers more visual imagery and is more interesting. When everything is limited in terms of how you can bet, you feel like there isn't much involvement in what you're doing on the reels. Here, you have more opportunities to win things, and it's visually more enticing. Everything looks better when it's across a larger number of reels! For anyone that loves Vegas and misses going to it during the pandemic, this game will remind you a little bit about what you're missing, and hopefully provide just a bit of money that you would have been otherwise winning. It is one of our favorite games in the genre, and they stand out one for players of all kinds!